Wages in restaurants: the real bread-and-butter issue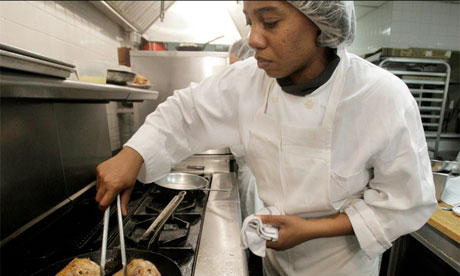 More and more, people want to know where their food and drink comes from. We ask: were these grapes organically grown, or doused with pesticides? Were the cows that make up this burger free to roam the pastures or crammed into overcrowded feedlots?
Less often do we ask about the conditions under which our food is prepared and served to us at our favorite restaurants.
A string of recent lawsuits suggest we should. Flyers recently slapped on lampposts in my neighborhood, the East Village in Manhattan, refer to one of them: three bartenders accuse the owners of downtown wine/tapas spots Bar Veloce and Bar Carrera of skimming up to 30% of their tips, along with failing to pay proper wages and overtime. The flyers exhort locals to think twice before frequenting these bars, along with nearby Porsena and Ugly Kitchen – also owned by defendant Frederick Twomey, who denies the allegations.
It's not just Twomey. Earlier this month, celebrity chef Mario Batali and his business partner agreed to pay $5.25m to settle claims that their restaurants including downtown Manhattan's Babbo and Casa Mono illegally nabbed a portion of servers' and other staffers' tips. Del Posto, another Batali restaurant, faces a separate lawsuit in New York alleging employees were underpaid….
http://www.guardian.co.uk/commentisfree/cifamerica/2012/apr/03/wages-in-restaurants