Warehouse Workers In California Claim They Were Shorted On Pay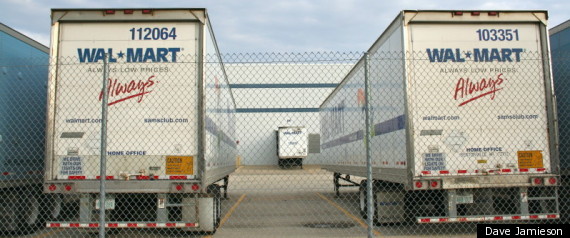 Warehouse workers in Southern California filed a lawsuit in federal court on Thursday alleging labor law violations against a Walmart contractor, the latest in a string of complaints lodged by workers in major U.S. distribution hubs.
In their proposed class action, three employees of Schneider Logistics claim the company devised an "unlawful scheme" to have them work overtime without paying them at overtime rates. The workers also say managers required them to take "voluntary" time off when they preferred to work and failed to give them rest breaks and legal wage statements.
Schneider manages various warehouses around the country that handle goods destined for Walmart stores. Last year workers at Schneider facilities in Illinois and the Inland Empire area of California filed lawsuits claiming that Schneider and its subcontractors shorted them on their wages. The California labor commissioner opened an investigation into labor practices at the warehouses in the Inland Empire and issued more than $1 million in fines to labor agencies that provide workers at the facilities….
http://www.huffingtonpost.com/2012/03/15/california-warehouse-workers-wage-theft_n_1349211.html?ref=mostpopular
http://i.huffpost.com/gen/535009/thumbs/r-WAREHOUSE-WORKERS-large570.jpg